Who says carrots can't be product of meat? Wait — on 2nd thought, all and sundry says that. Stunning worthy all and sundry across the board.
But no longer Tom Samways.
Samways, a butcher in Wales, no longer too long ago decided to absorb a "little bit of fun" on the expense of plant-basically based mostly "meat" purveyors by creating his cling meat-basically based mostly "carrots."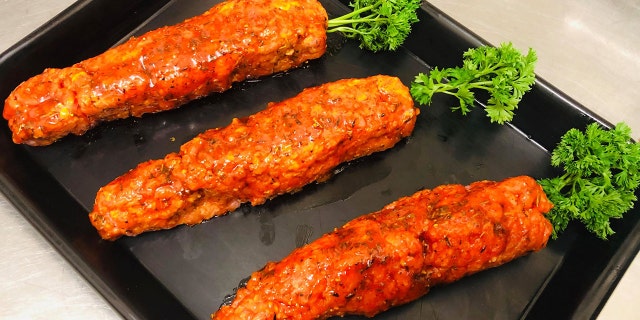 Samways' meat-basically based mostly "carrots" are product of seasoned minced pork, an orange-hued Italian seasoning glaze and parsley.
(Tom Samways)
DISNEY PARKS CHOOSE THEIR 'PREFERRED' PLANT-BASED BURGER OPTION
But what started as a shaggy dog legend soon became sincere into a lucrative merchandise, as he reportedly sold 300 of the "carrots" from his T Samways butcher store in Cardigan, Wales, on the day they debuted.
"We were trying to supply our prospects comparatively of fun by making meat-basically based mostly carrots as comparatively of a nod to vegans making plant-basically based mostly meals and naming them after meat," Sanways instructed Fox Files. "It used to be all in excellent jest."
CLICK HERE TO SIGN UP FOR OUR LIFESTYLE NEWSLETTER
Not all and sundry used to be stout desirous about Samways "carrots," that are made with minced pork, parsley, and an orange-hued seasoning mix.
Samways tells Fox Files that there "used to be comparatively of backlash from vegans" upon his most modern merchandise's debut. Samways, no longer trying to offend, tells Fox Files he pulled the merchandise the following day, as he by no methodology supposed to originate any individual offended.
"What started off as comparatively of fun from a tiny farming neighborhood in West Wales has escalated to a world thing," he said. "But all in all, I judge all and sundry saw the comic aspect of it."
CLICK HERE TO GET THE FOX NEWS APP
Oddly ample, Samways wasn't the major meat-minded particular person to dream up a meat-basically based mostly "carrot." Aid in June, the parents at Arby's replied to the plant-basically based mostly "meat" craze with the "marrot" — a turkey-basically based mostly "megetable" designed to hunt bask in a carrot.